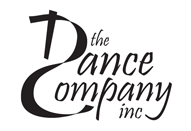 Curriculum
The Dance Company, Inc. offers a complete dance curriculum for all ages and abilities. We stress proper technique and performance with classes ranging from the specialized program for pre-schoolers to tap, jazz, acrobatics, hip hop, contemporary, ballet and pointe on advanced levels.

Stage Arts - Stage Arts is specifically designed for the young pre-school student. Stage Arts is a one hour class and consists of pre-ballet, tap, basic tumbling and rhythmic movement. Students will be required to have pink ballet shoes and bark Mary Jane tap shoes.
5/6 Year-Old Combo Class - This is designed for the young school age dancer. It is a 1 hour class consisting of 30 minutes of ballet and tap. Every other week a 20 minute jazz class will be incorporated into the class. Dancers will need pink ballet shoes and bark Mary Jane tap shoes.

6 Year-Old Combo Class - Students in this class should have taken 5/6 Year Old Combo the previous year. Class content builds upon the skills taught the prior year. Students have the option of taking this class or moving into our more structured Elementary I classes after completing 5/6 Combo.

Ballet - Ballet is the foundation for all forms of dance. It is essential to the development of poise, grace, balance and discipline required to become an excellent dancer. Students must wear a black leotard and pink tights with pink ballet shoes. Hair must be worn in a French braid, bun or ponytail.

Pointe - Pointe will be offered to students who show the necessary strength, technical ability. In addition to an hour of pointe, students are required to take an additional hour of ballet each week. Students will be placed in the pointe class at the teacher''s discretion.

Tap - Tap class will consist of fundamental barre work, rhythms, and proper tap technique. Elementary classes will be required to wear Bark Mary Jane tap shoes. Intermediate classes will be required to wear jazz taps.

Jazz - Based on ballet and folk dancing, jazz is a stylized theatrical kind of dancing.

Acrobatics - Acrobatics consists of beginner, intermediate and advanced levels of tumbling integrating dance movement and stressing flexibility, control, and strength. Beginning acrobatic classes will not perform in the recital.

Baton - Baton twirling is an art form that combines dance steps with twirling a baton. It utilizes twirling with both hands, hand-eye coordination, gracefulness and rhythm.

Hip-Hop - Hip-Hop is a freestyle, dynamic type of dance. It is also connected to urban street jazz.

Contemporary - A style of theatrical dance that rejects the limitations of classical ballet and favors movement deriving from the expression of inner feeling.

2 Year Old Class - A class consisting of basic warm-up, ballet, creative movement and tumbling for the beginner 2 year old.

Creative Dance - A class consisting of ballet interspersed with creative movement and imagination exercises. This class is designed for the young elementary student.

Honors Ballet - Susan Potts oversees our very popular Honors Ballet Program. Each student enrolled takes additional , in addition to their regular ballet class. Each student is first evaluated by the instructors and then placed in our graded Honors Ballet program. Students perform excerpts from the Nutcracker each holiday season and participate in a one week Ballet Intensive during the summer. For further information about the program, please see Ms. Susan.